THE HELLFREAKS
Founded: 2009 
Genre: punk / metal 
Discography: 
2010 - Hell Sweet Hell [Album] 
2012 - Circus Of Shame [Album]
2013 - Godless Girls Fun [Single]  
2016 - Astoria [Album] 
2020 - God On The Run [Album] 
Hell was full so they came back...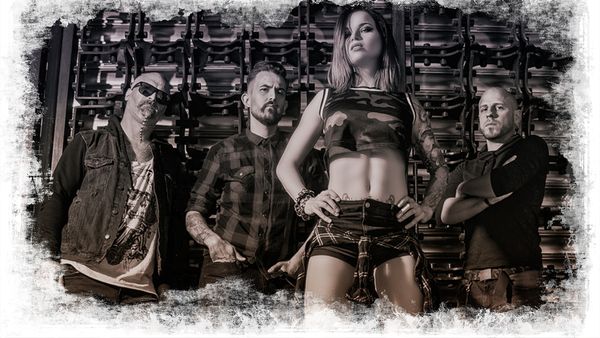 Their return to this world began in February 2009 when Shakey Sue and her guitarist decided to amp up the sophistication of the music they were playing as members of an established surf-psycho band. Sue abandoned her drumsticks and the guitarist grabbed his Gretsch and after teaming up with two other friends who were rocking the punk world the Hellfreaks were born.

Rather than trying to hide their horns any longer, they combined their musical roots in punkrock, psychobilly and metal and the result was an original hard hitting sound.

During the summer of 2009 they recorded their first demo. That very same year the Program For National Contemporary Music Culture in Hungary invited applications music and motion pictures. Despite over 180 submissions, The Hellfreaks won the competition which gave them the funding required to produce their first music video for their single "Boogieman" which instantly resulted in over 3,000,000 views on Youtube. The video became one of the most viewed psychobilly videos ever! At the beginning of 2010 the band released their debut album "Hell Sweet Hell" which went to almost immediate success being sold to fans from Alaska to Australia, from Budapest to Birmingham.

After another 2 years of touring, the world was ready for their next album "Circus Of Shame" recorded on german label Longneck Records. A mix of punk rock and psychobilly a healthy touch of take-it-or-leave-it, alternative model and vocalist Shakey Sue and her 3 partners in crime set out to take their fans by storm and tell the critics ' Listen to this now!" 2013 they recorded their second video-clip in France/Montpellier for the song "Godless Girl's Fun", directed by Enguerran Prieu, participator of the Cannes Film Festival 2013. The Hellfreaks continue to show fans across Europe and USA that as a hard touring band they can draw and play to audiences regardless of geography. They have performed in almost every European country, from small clubs to major festivals such as the WGT, Rock'n Ink & Force Attack in Germany, the Psychobilly Meeting in Spain, Club Sin in Finland, Warhead in Poland, Pod Parou in Czech Republic, The Whoolwich Grand Theater in London, Bedlam Breakout Festival in Northampton and countless other venues.
As 2014 began to close up, the band split though it was a brief departure as Sue pulled the band from its temporary grave with a new line-up and a fresh evolution of their sound which saw punk and rock 'n' roll instincts fuelling a whole new incitement and individuality. The new generation band started with a tour through the USA in Summer 2015. The Hellfreaks toured in California, Arizona, Nevada and played at Ink'n Iron Festival in Long Beach as well.
The potency of this change was in evidence within third album Astoria, released 2016. With this piece they separated themself from the billy-roots and went straight forward to their new way they can call their own now: fresh, modern punk rock, with a high melodic punch, rockin' guitars and a female singer between poppy notes till roaring lungs added with a tiny dose of hardcore-attitude.
In 2020 the band released their 4th album God On The Run, an unbridled stomp which unapologetically puts all before in the shade.